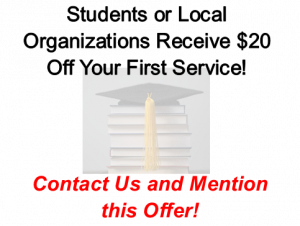 Worried your computer caught a virus? Just cracked your laptop screen?  Bring it to us!  Our trained professionals offer a free diagnosis and will repair what is broken at a reasonable cost.  With 25+ years of experience, our skilled technicians are prepared to promptly get your PC/laptop/device back in working order.
Call or Stop In for High-Quality, Low Price Computer Repairs!  We Can Fix Anything!!
How does it work?  Call us or stop by and let us know the issues you are having.  We'll perform a complimentary diagnostics, no strings attached!  Upon inspection we'll let you know what services are required and associated costs — whether we need to do computer monitor repair or a hard drive installation.
We'll do our best to get your PC/laptop/device back to like-new condition as fast and affordably as possible. From the time we get your device, we'll start repairing it right away, and we'll keep you updated on your computer's status from beginning to end.
Services Includes:
Desktop -  Reinstall Operating System, Virus & Spyware Removal, PC upgrades, Tune-Up
Laptop - Virus & Spyware Removal, Replace Screen, Fix Motherboard / Power jack, Reinstall Operating System
Phone - Replace Broken Screen on any phone, Micro Soldering, Back up and Restore, Fix charging ports
Tablet/Device Repair - Replace Broken Screen, Fix Charging ports, Back up and Restore, We also fix gaming consoles